How to Draw Dracula
Today we're going to show you six steps to follow to create a detailed drawing of Dracula using Arteza's EverBlend Art Markers Set of 120. Before we start creating, let's take a moment to acknowledge the history of Count Dracula. While Dracula is a purely fictional character, he was named (by author Bram Stoker) after a real person who had a taste for blood: Vlad the Impaler; also known as Vlad III, Prince of Wallachia and Vlad Dracula. Stoker's 1897 novel "Dracula" is rumored to have been inspired by a nightmare. Stroker actually started writing "Dracula" right after Jack the Ripper made headlines in 1890—talk about spooky! Well, now that we know a bit more about the history of "Dracula", let's draw a portrait of the world's most famous vampire!
List of Supplies
6 Steps to Drawing Dracula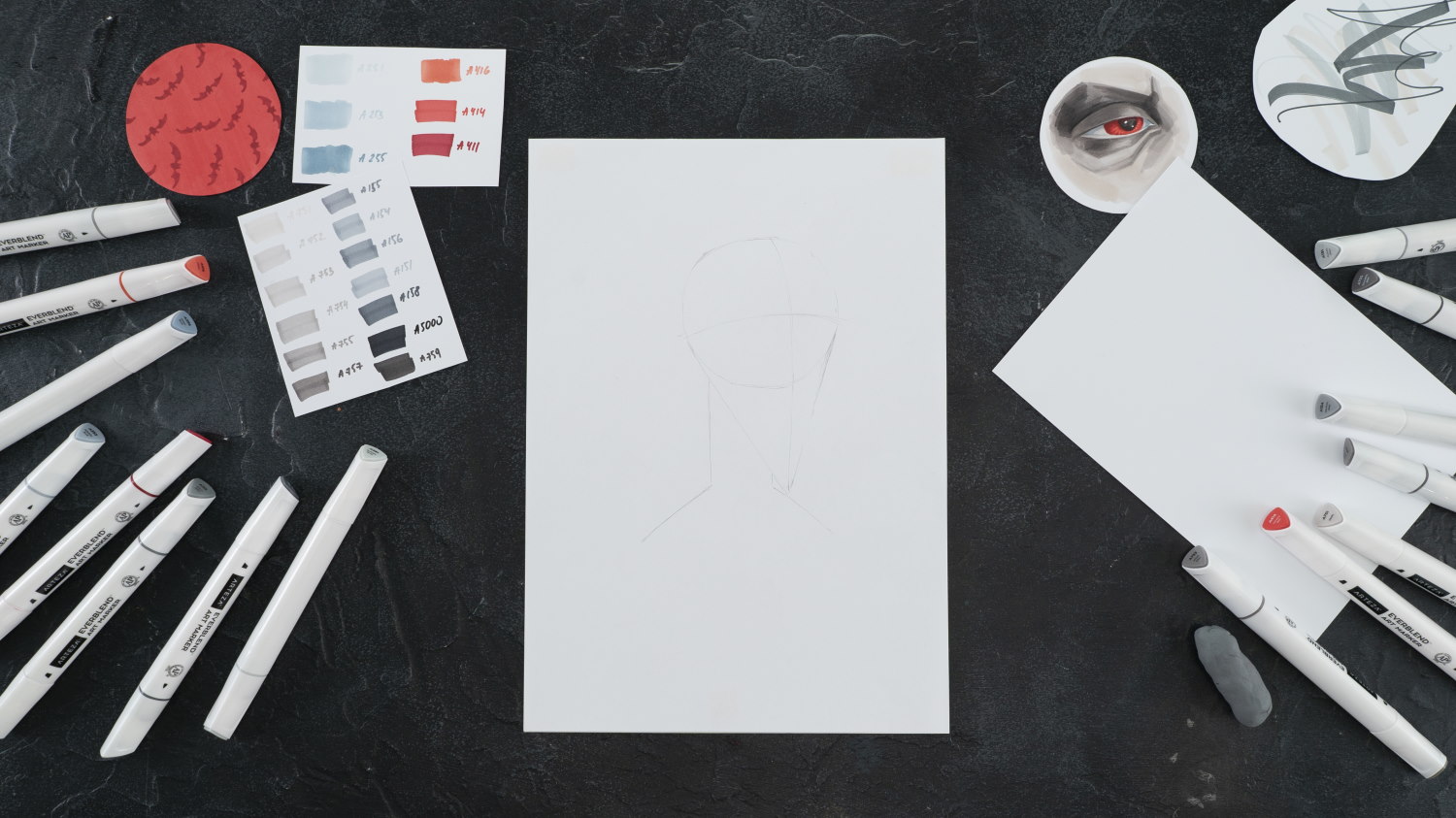 Step 1
To begin we're going to draw a very basic sketch. On a sheet of paper start by drawing a circle, to represent Dracula's head. Then, sketch out a triangle to represent the bottom portion of his long face. Sketch out the neck and shoulders, then the axis where his eyes will be drawn in later. Next, lightly sketch where his facial features will sit with basic shapes—draw the eyes, temples, nose, mouth, eyebrows, and jawline.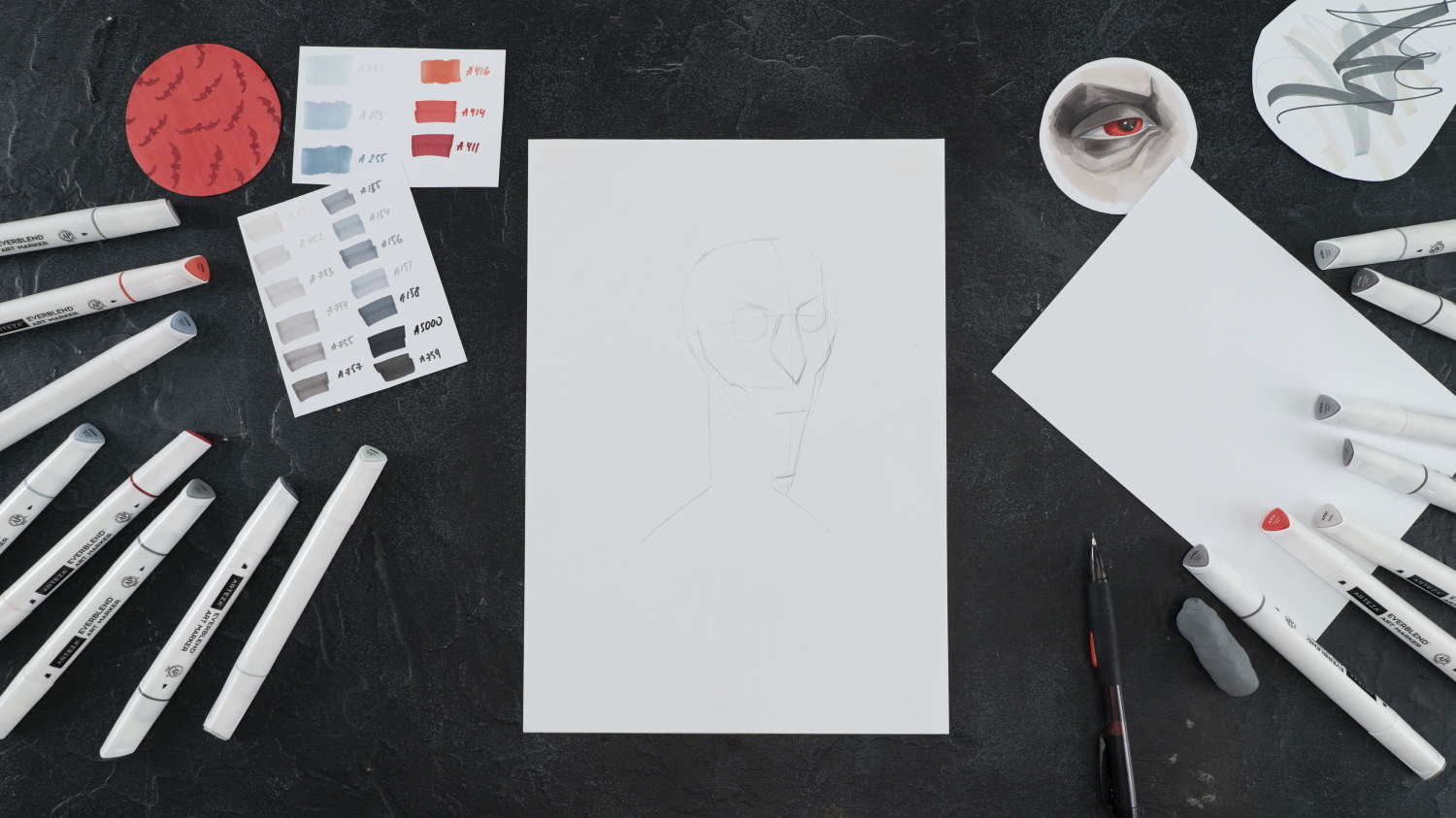 Step 2
Bring more detail to his eye area, nose, hair, hairline, ear, and bone structure. Take the time to really detail Dracula. Once you're satisfied with this preliminary sketch, we can move on to turning this sketch into a drawing!
Fun Fact: There are at least 60 movies based on Bram Stoker's character Count Dracula, however, he is reported to make an appearance in more than 200 films!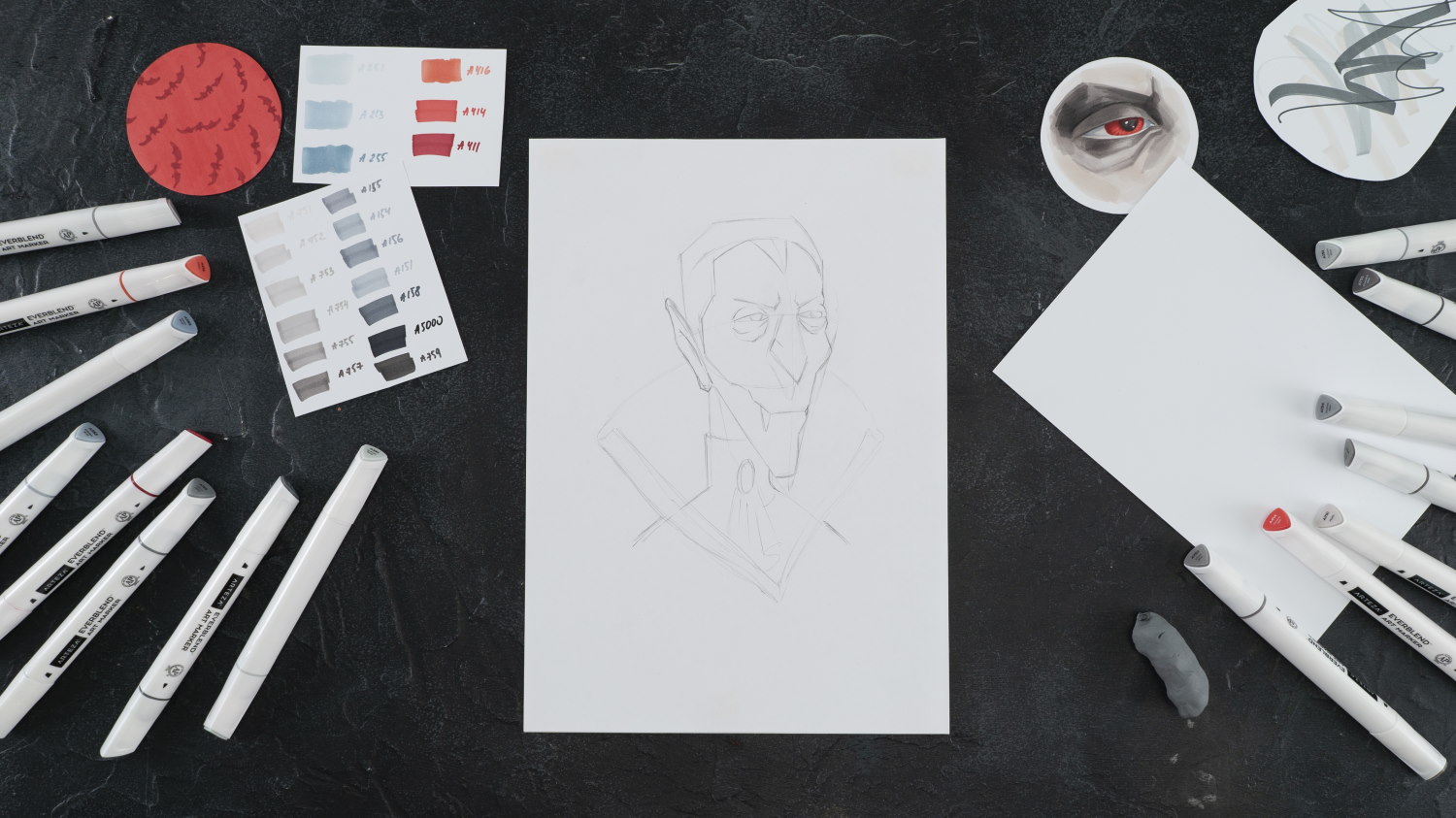 Step 3
Time to work on turning this average-looking man into Dracula! Start by drawing his shirt, brooch, collar, and fangs. Be sure to add his iconic hairline as well.
Fun Fact: The working title for the novel "Dracula" was "The Undead".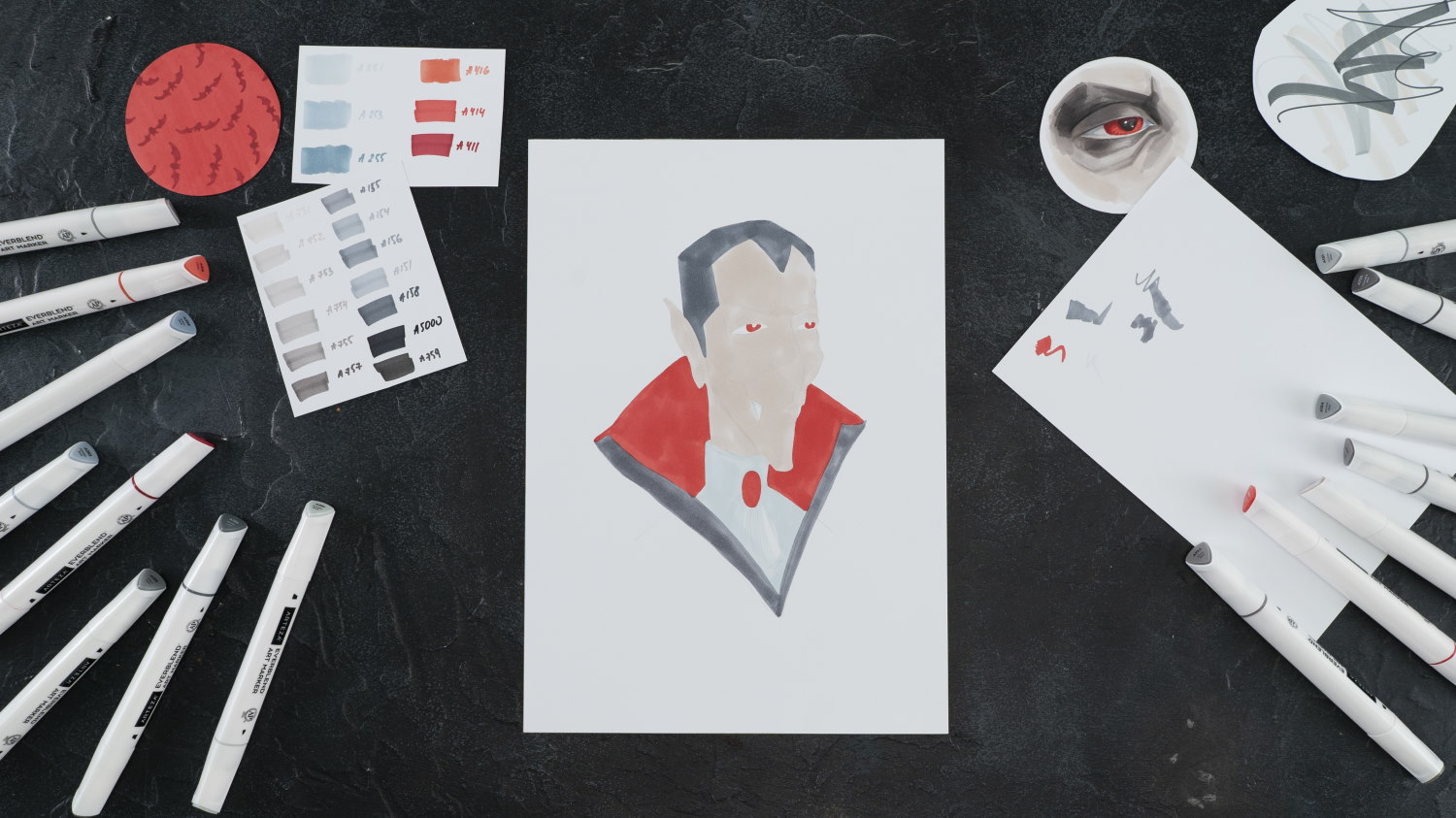 Step 4
Once you're feeling confident with your sketch, outline all the important lines then erase the rest. We recommend using a kneaded eraser to then lighten the saturation of your graphite marks. Now your drawing is ready to be colored!
Fun Fact: The name "Dracula" actually means "dragon" or "devil".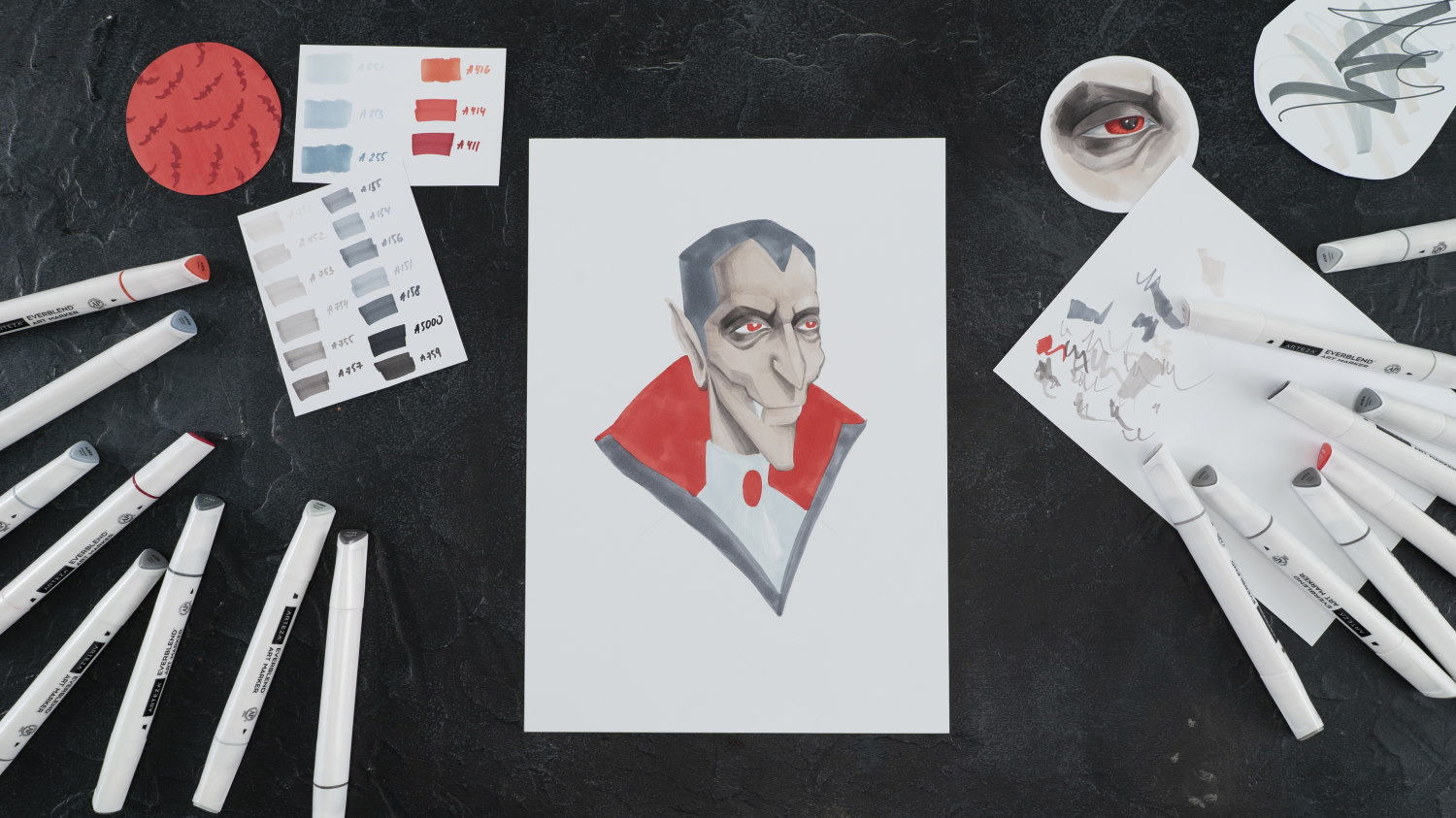 Step 5
Use Pearl (A751) to paint over Dracula's entire face, ear, and neck, except for his eyes and fangs. Then, use Glacier Blue (A251) to color his shirt. Color the interior of his collar, his brooch, and his eyeballs with Tomato Red (A414). Color his hair with Stormy Gray (A156). Now that we've got our basic coloring down, we're ready to add shadows and details!
Fun Fact: "Nosferatu" (1922) was the first film depiction of Dracula.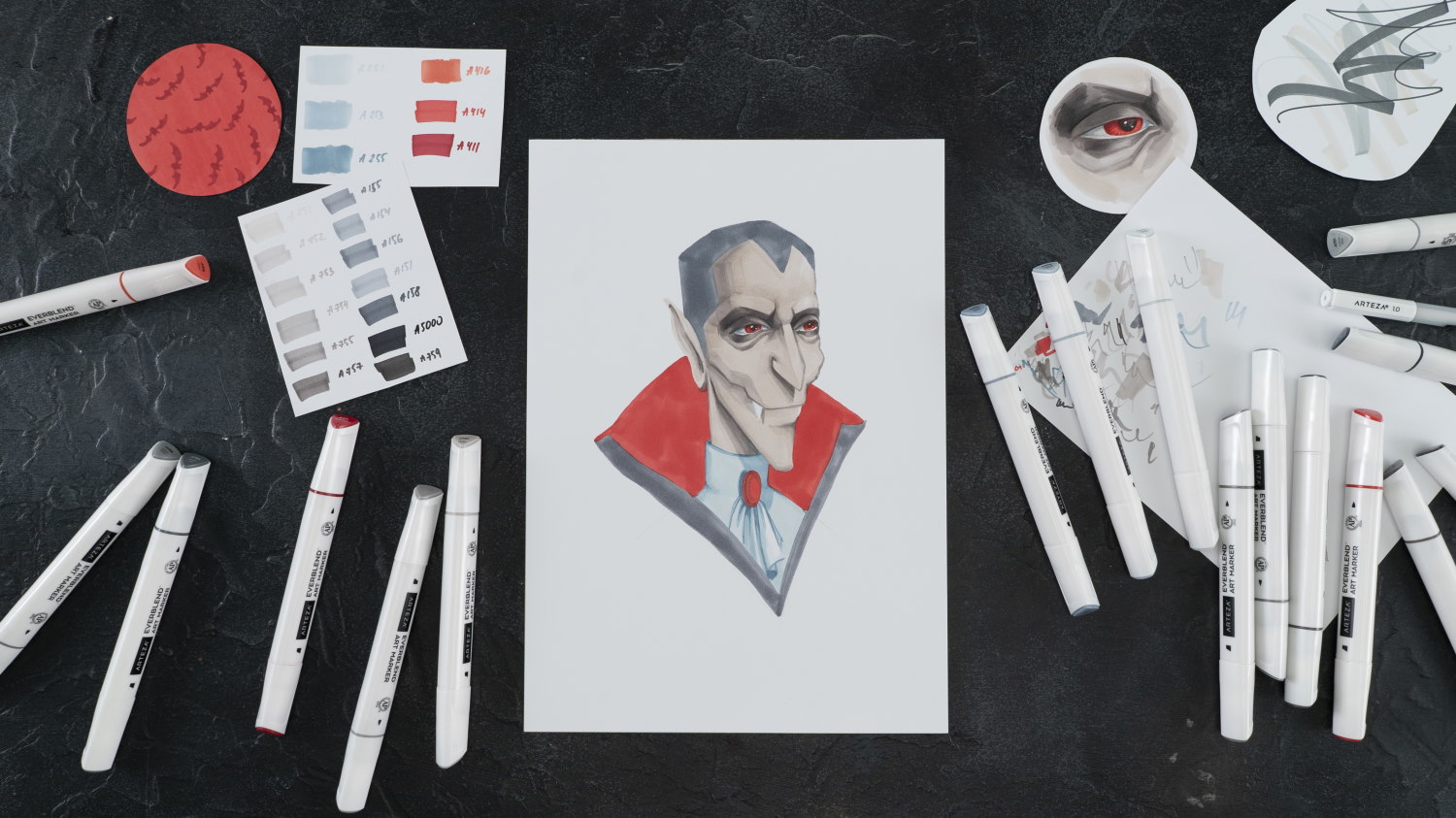 Step 6
Detail Dracula's face, ear, and neck using Blush Gray (A752), Stone Gray (A753), Fossil Gray (A754), Concrete Gray (A755), Brown Gray (A757), and Lava Gray (A759). This collection of warm gray tones will assist you in bringing this Dracula portrait to life! Start with the lightest shades, then work your way up gradually, one layer at a time, to create the desired results. Put an emphasis on the shadows and concave parts of his face and neck by creating shadows with depth.
Draw Dracula's pupils with Deep Blue Gray (A158), then color his eyeballs with Coral (A416), Tomato Red (A414), and Ruby Red (A411). Use shades of gray to add shadows to his eyes. Add highlights to the lower lash lines and pupils with a white gel pen.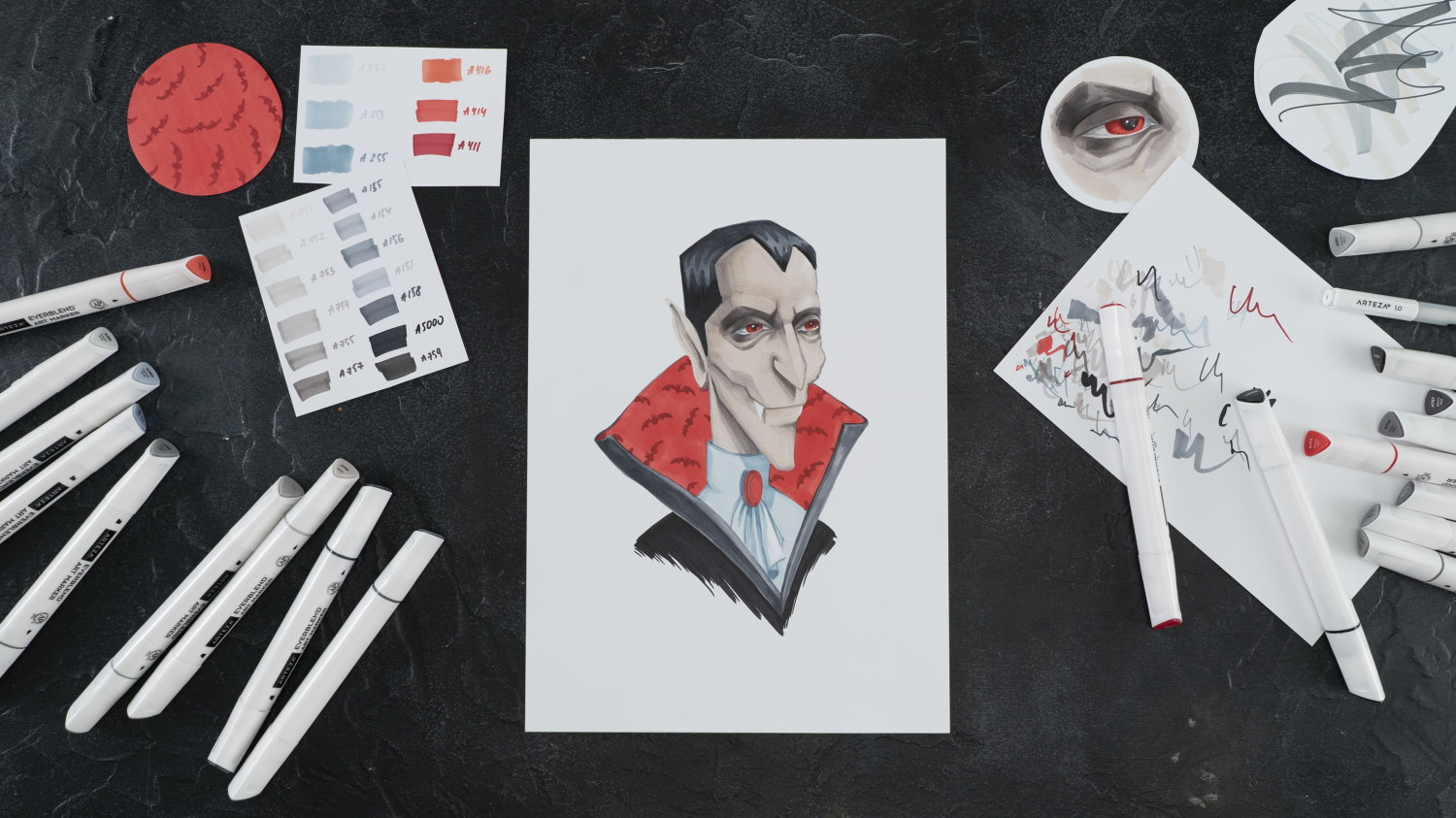 Step 7
Next, add color to Dracula's shirt with Glacier Blue (A251), Powder Blue (A253), and Ocean Blue (A255). Add extra detail to his accessories with Tomato Red (A414). Add more dimension and depth to Dracula's hair using Deep Blue Gray (A158) and Black Noir (A5000)—be sure to leave a zigzag stripe through his hair to resemble shine/a highlight.
Outline his collar using dark gray shades and Black Noir (A5000). Give your Dracula a bit of flare by drawing bats inside his collar using Ruby Red (A411). Finish off by adding wrinkles around Dracula's lips and adding any remaining shadows and highlights you find necessary.
Wow! What a spooky-looking Dracula portrait, right in time for Halloween! Celebrate the spookiest time of the year by creating more monster portraits with this EverBlend Art Markers Set of 120. The wide selection of colors featured is suitable for creating any creepy character imaginable! Draw everything from witches to zombies, and everything in between with our EverBlend Art Markers Set of 120. Be sure to check back for even more how-to blogs and YouTube videos exploring all of the ways you can express yourself with our Premium EverBlend Art Markers!
Want More Content Like This?
Subscribe & have it sent right to your inbox.