Artist Profile: Caitlin Pazmino
Caitlin Pazmino is just getting started in the art world. She's ambitious and has gained notice for her masterful oil paintings, despite being an undergrad college student at the end of her teen years—a time that sees many of her peers only concerned with partying and avoiding early morning classes.
Her landmark work "7 Faces," is a potent statement about unity that combines the faces of seven different races into one canvas. The work caught the attention of the owners of One Art Space in New York City, who put it front-and-centre at 2020's 4th Annual International Women's Day Art Fair. "7 Faces" was also featured on some of the art fair's promotional and commemorative materials.
Pazmino is a tireless learner and is beginning to branch out from oils into other art-making methods, such as coloured pencils, watercolours, and Arteza EverBlend markers.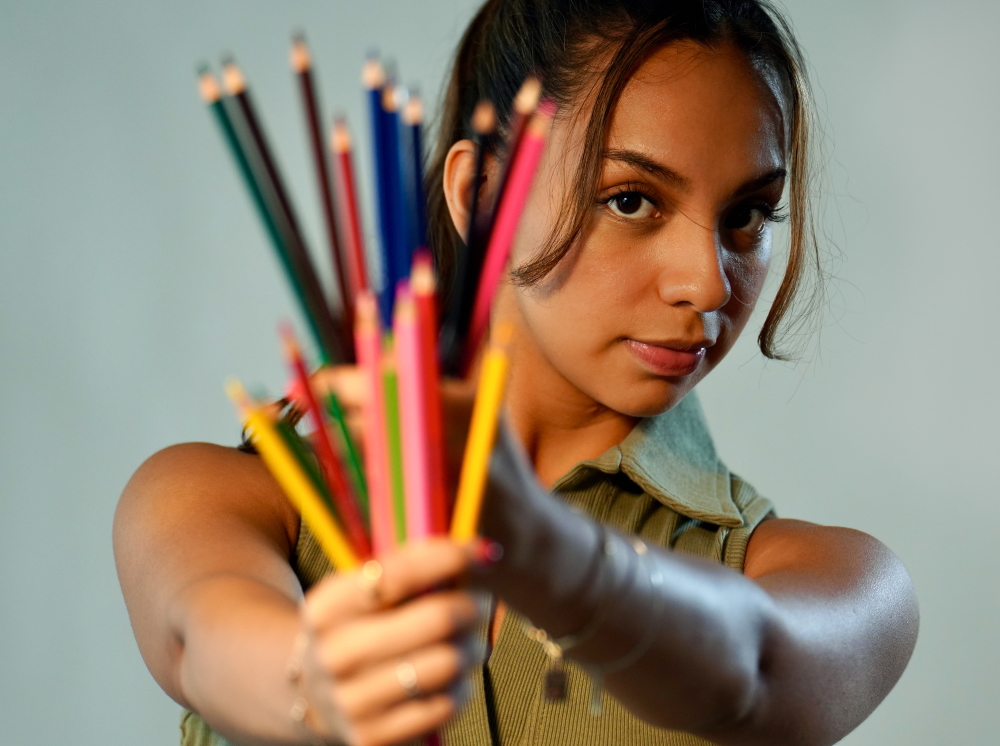 At the height of the pandemic, Pazmino felt compelled to give back by using her artistic skills to uplift lonely, elderly people in isolation. She did this through the Letters of Love foundation, augmenting her aunt's poems with unique hand-painted pieces. In this artist profile Q&A, Pazmino talks about her influences, artistic process, how much success means to her, future plans, and more.
At the height of the pandemic, Pazmino felt compelled to give back by using her artistic skills to uplift lonely, elderly people in isolation. She did this through the Letters of Love foundation, augmenting her aunt's poems with unique hand-painted pieces. In this artist profile Q&A, Pazmino talks about her influences, artistic process, how much success means to her, future plans, and more.

When did you first get into art?
I remember always being into art. [During my] whole life I was involved in the arts. I didn't start taking art seriously until I turned 16. I graduated high school early and found that I could make money by creating art. It became more of a side job at that time but later flourished into…full-time training [and a] job.
Who are your favourite artists?
My favourite artists are the classic [ones, such as] Caravaggio, Tiziano Vecelli—also known as Titian—and contemporary artists like Kehinde Wiley and Alex Garant.

Do you consider yourself part of a particular art movement?
I wouldn't really put myself in any box or label myself as anything, but my style could resonate with the contemporary art movement and even [the] realist movement.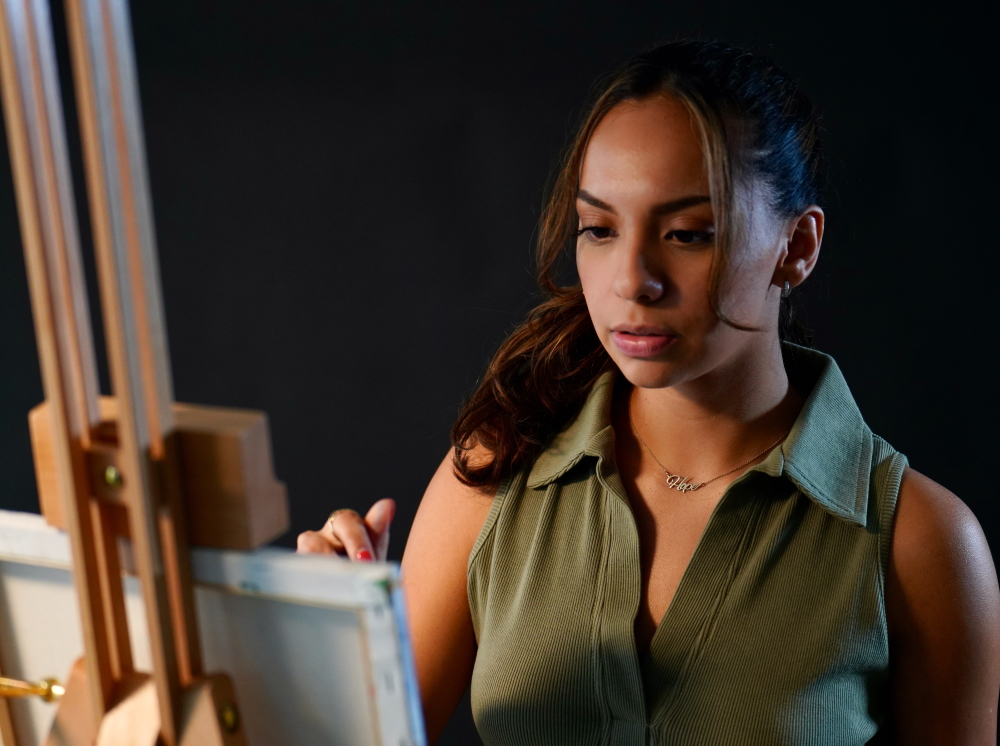 What draws you to oil painting portraiture?
I like capturing people, their expressions, and their raw emotions. Everyone is different, everyone is unique, so every person is a new study to experience as a painting. As for oil as my choice of medium, it is because I can always revisit the painting without the worry of the paint drying. I can also make revisions and layer the paint as I please.
Are you exploring different mediums?
Yes, currently I am pushing outside my comfort zone and stepping outside of what I am used to using, which is oil paint. So lately I've been experimenting with watercolours, colour pencils, the EverBlend markers from Arteza and have just been focusing on loosening up and playing again with art.
What is your artistic process?
I first come up with a concept. I will write about the piece I want to create and my intention behind it. Then I will decide on the best medium to use to bring the idea to life. If I decide on an oil painting, I typically will work with a pre-stretched canvas but sometimes I will stretch my own canvas depending on what is available to me. Once I get that done, I prime the canvas, I paint it orange as the background using acrylic paint. I use orange because it's a warm base.
I wait for it to dry, [then] I sketch out the drawing on my canvas and then get to painting. My initial focus at the beginning process of the painting is value so it is important to paint from dark to light. Once the lights and darks are established, I can begin to work on colour. From there it's a matter of mixing the right colours and tones to bring the painting to life. I'll paint the background, and later use varnish to seal my paint and lastly sign it off.
Your work "7 Faces" has received a lot of attention. What inspired that painting?
I visited The National Gallery Museum in London, England, and came across the Italian artist Titian's painting named "Allegory of Prudence" which portrays three human heads, each facing in a different direction. It represented the past, present, and future. I remember feeling very inspired by the painting and at the time I was reading a book that emphasised Unity in Diversity—the concept that we are all equal, we are all the same, we all bleed the same, and that our diversity is what unites us. The idea of "7 Faces," seven different races that come together as one just seemed like a powerful idea, it just clicked with me, I drew out a sketch in my journal to remember the mental picture I received and when I got back home to Florida, I was so excited to start the painting that I got to work right away!
How did you get into painting on skateboards?
I had an ex-boyfriend that was a skater and when he finished skating a deck, he [had] the tendency to throw out his boards. I like to reuse materials, so I tried painting on a used board. I painted my first board with oil paint and spray paint, and I loved the way it came out. I gifted him the first board I created which was a Carlos Santana board and from there on created more boards as custom orders for friends, family, and anyone who was interested.

Where did the idea come from to paint handmade cards with poems by your aunt while we were in the midst of the pandemic?
I came across a foundation called Letters of Love for the elderly and thought it would be a nice idea to send loving letters to those who felt alone during the pandemic. I asked my aunt Joey who lives in Melbourne, Australia to collaborate with me in making personalised poems to write in each one of the letters. I hand-painted and hand-wrote in 15 letters and sent them off to the foundation. We received good feedback and word that the elders loved the letters and felt lucky to receive them. That was our intention so we definitely felt accomplished and grateful.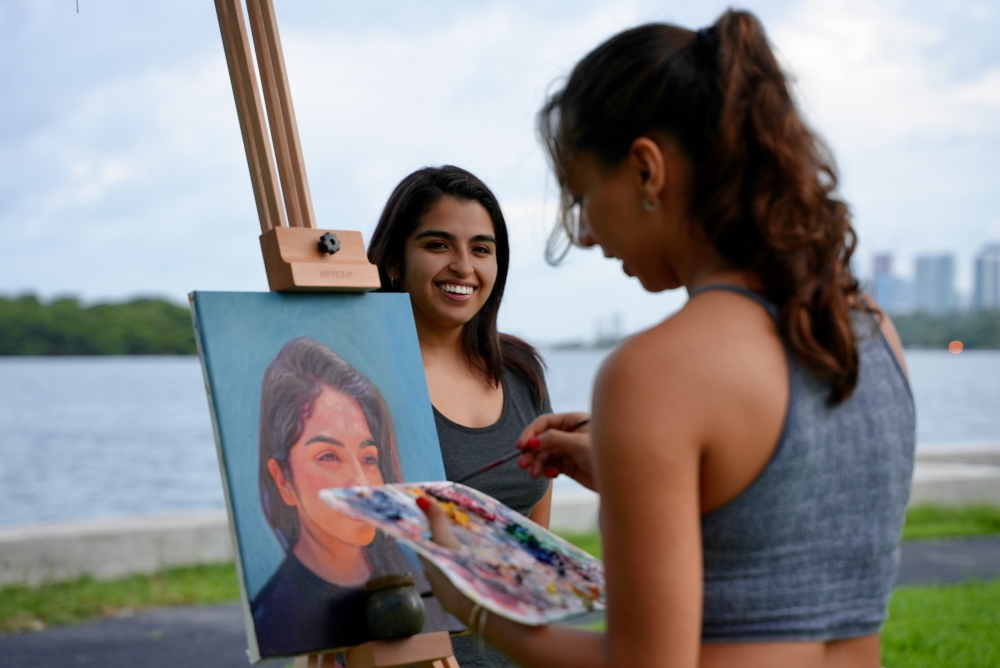 Do you have a particular favourite work that you have created?
I would say all my paintings are my favourite because I love what I do but if I had to pick one, I would say my Nipsey Hussle painting. His role on this earth as a husband, father, and artist really touched me. He was so loved and celebrated by his community, and it inspired me, how one man can leave such a powerful legacy. I felt honoured to have brought him back to life in a piece I created and hope to keep the inspiration [going] for others to appreciate. 
What was it like to be involved with the 4th Annual International Women's Day Art Fair at One Art Space in New York City?
I felt so honoured and grateful to have even been invited to the show. I felt so overwhelmed with the love that the people showed me that night. I remember feeling like I was on top of the world. It was amazing to have had my painting "7 Faces" right at the entrance and even my "Juice WRLD" painting featured in the exhibition. I thanked the owners for seeing the potential in me, for inviting me, and for publishing my painting [in] the cover magazine for the 2020 4th Annual International Women's Day Art Fair. It was an amazing experience and I hope to do it again one day.
How do you see your art career evolving?
As of right now, I see myself expanding as an artist [by] collaborating with companies, other artists, and other creative people. I don't necessarily have a narrow direction I am heading towards but involving myself in the arts and projects that come about is my plan. I am still a student at… New World School of the Arts and still have much to learn and [growth to experience].
How important is social media to your artwork pursuits?
Social media is everything. It is my platform, it's how I reach out to people, it's how I show off my art and how others find me and reach out to me to collaborate on projects. Social media also helps me to sell my artwork and my art pieces.

What advice do you have for beginning artists?
I would say to anyone who wants to start taking it seriously is to just dive in completely. Let go of the need to do everything perfect, mistakes are inevitable but it's how you learn and become a better artist…just embrace all parts of the process. Know that if you stick to something, and pour your heart into it, [it] will pay off and take off eventually. Patience is [a] virtue and something art teaches you. The journey will humble you because there is always something to learn but have fun, let loose, and show up every day for what you love to do!
What are you currently working on?
I am currently working on putting up an Etsy shop to attach to my art account [so that others will] be able to purchase their own prints of my paintings, original works, and more skateboard pieces. As I work on that, I continue to paint and draw on the side to keep working on my [weaknesses].
What are your favourite Arteza products?
My favourite Arteza products are the oil paints because of the variety of colours and how smooth it lays on the canvas. I also enjoyed [using] the watercolour set from Arteza because I can bring it on the go as a transportable case. I enjoyed working with all the new Arteza products and was very impressed with the high performance of the supplies. I also enjoyed the pre-stretched canvases and made sure to stock up on the thin, sleek canvases.
Are you feeling creative after reading about Caitlin Pazmino? Make sure to shop the suggested set below for your next creation.
Want More Content Like This?
Subscribe & have it sent right to your inbox.